If you've ever asked yourself, Abraham Lincoln, what is with that guy? This is the book for you.
The answer to that question is both simple and complex. It's complex because all people are complex, and the political landscape that Lincoln navigated–although lacking 24 hour news cycles, talking heads, and loudmouthed pundits–was nevertheless a treacherous and multi-faceted one. Team of Rivals is in large part Doris Kearns Goodwin's attempt to illustrate just exactly how it was that he navigated those treacherous waters: gaining the presidency, winning the loyalty of the newly formed Republican party and love of the people despite his lack of education and political clout, bringing the country through the Civil War, passing one of the most influential pieces of legislation in history, and ultimately, ending with his assassination, and the Abraham Lincoln-shaped hole left in the world.
I say it is also simple because if DKG is to be believed (and I do believe her), Lincoln accomplished these things the same way he did everything in his life: by being a kindhearted, rational man with a good head for common sense on his shoulders, and a willingness to really listen and understand both his rivals and his allies. Early on in the book, DKG chronicles Lincoln's tendency towards 'melancholy,' which she concludes was largely brought on by his extreme empathy. He brought a balance to everything he did that is probably most exemplified by his decision to bring his political rivals into his cabinet, and make them his chief advisors, a decision for which he was criticized, even by those same cabinet members.
The book is as much about those rivals as it is about Lincoln. William H. Seward, the most heavily favored candidate for president in 1860. Salmon P. Chase, a noted abolitionist, and a man simultaneously riddled with insecurities and absolutely rabid about his desire for the presidency, to the point where he believes himself destined for it, even though he has no talent for judging the climate of a situation. Edward Bates, the elderly statesman, who ran for president and then joined Lincoln's cabinet despite a fierce desire to remain at home with his family. And Edwin M. Stanton, the famous lawyer, who upon first meeting Lincoln thought him incredibly dull and a hopeless rube. These are the men Lincoln surrounded himself with, and it's notable that with the exception of Chase, who was a first class egomaniac and a total asshole to the end, all of them came to understand what a remarkable man Lincoln was, and to appreciate his unique abilities.
DKG's writing is remarkably thorough, and by time I finished the book, I felt like I'd been through a master-class of Civil War era politics. Like all good historical writers, she mostly refrains from passing judgment, letting the evidence speak for itself. There were a few parts where I questioned the 'Team of Rivals' concept, but mostly only in regards to Chase. Seriously, you guys, that dude was really smart and he's basically the reason we have paper money and everything, and he almost single-handedly helped fund the war effort, but . . . ASSHOLE. He never once acknowledged Lincoln's aptitude for the presidency, believing until the end that HE should have been president, even going so far as to sow disloyalty in the cabinet leading up to the 1864 election (which he again was surprised at not being a top candidate, showing his total inability to understand why people disliked him). Of course, these actions cost him his place in the cabinet, even if he never understood why (he also never understood why his actions were so harmful). I mean, this is a guy who REGULARLY threatened to resign as a negotiation tactic with Lincoln, because he had the emotional maturity of an eight year old. But I will not say any more about Chase other than to emphasize that I really wish DKG would have clarified a little more why exactly he was such an essential piece of the team, because honestly, I think he was more trouble than he was worth. Lincoln, bless his heart, probably would have disagreed with me. He defended Chase's integrity to the end, even giving him the Chief Justice position over several other less controversial candidates, because he truly believed Chase was the right man for the job, despite the backstabbing and manipulating he very well knew about.
Besides the big stuff, Team of Rivals was also chock full of tiny little details that were by turns amusing and disturbing. I will never get over Mary Lincoln and her shopping addiction, or how Lincoln's secretaries called her 'The Hellcat' (they called Lincoln 'The Ancient'). VP Andrew Johnson was totally wasted at the 1965 inauguaration, to the point of forgetting cabinet members' names during his speech, and pointing to them instead. Almost all of the cabinet members took drastic paycuts to be in the cabinet, to the point where a couple risked financial ruin. And of course, the little tidbits about Lincoln himself. How awkward he was with the ladies, how much he loved to read (he carried a book with him everywhere), how he told stories constantly as a way to communicate . . . so many tidbits.
It took me three months to read this book, via audiobook. It was worth it. This is the kind of history I wish I would have read in high school, not that sanitized dumbed-down crap. The kind that takes history out of the realm of story, and gives it flesh and blood. The kind that makes me feel enough to cry for ten minutes while driving, to the point where I had to stop and park to gather my bearings. The kind of history that makes you feel the joy, and the wasted potential. The thing that makes me most sad–besides Lincoln's death, obviously, is that with that idiot Andrew Johnson running things, the chance of a productive Reconstruction period(full of Lincoln's trademark common sense and empathy, even for the South) went to almost nothing. How much different things could be even today if Lincoln had been the one to shepherd the reunification of our country, we'll never know. But I like to think it would have mattered. That one man can be that influential, just by being kind and sympathetic from a place of power. It's the reason Lincoln is so mythologized. He's easy to mythologize. Hell, this is my favorite t-shirt, and I wear it with pride: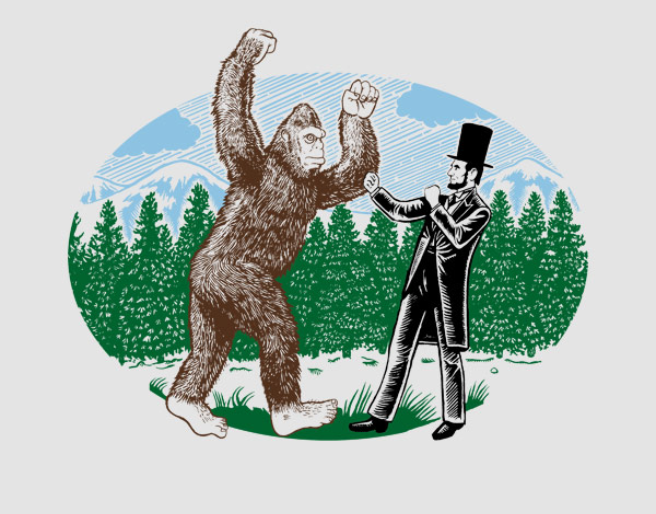 Fittingly, DKG ends her book with this quote, that I feel sums up things nicely.
"Washington was a typical American. Napoleon was a typical Frenchman, but Lincoln was a humanitarian as broad as the world. He was bigger than his country – bigger than all the Presidents together."
It's a good book, is what I'm saying.
[4.5 stars]