So aside from this gorgeous Scandinavian fairytale book I used to repeatedly check out from the library as a child*, the Nancy Drew books make up the entirety of my first real literary memories. When you have a bookworm for a child, know that that child will scour your entire house for any book it can find**, and will then proceed to read any and all books indiscriminately. This works out well for the child, generally, but you should know it's going to happen. That's how I found my mom's collection of all the original run Nancy Drew books, up until the last book published by Grosset & Dunlap in 1979. I discovered them tucked away in a bottom cabinet, hidden behind assorted VHS tapes of Lassie and Flipper. This was like finding a box full of treasure.
*This book is eating my brain. I've been trying for years to track it down. I barely remember the story or the illustrations, only that I loved it, and found a copy in a different library in about 1998 or so, and stupidly didn't check it out or remember the title or the author. If I saw it, I would remember, but I haven't and I can't and IT IS DRIVING ME MAD.
**People, hide your sexy books. Really, your children will find them under your bed and in your nightstand. They will go through your closets. They will find the pictures you hid inside them, also, even if they never tell you about it. Think of your children. Hide your shit.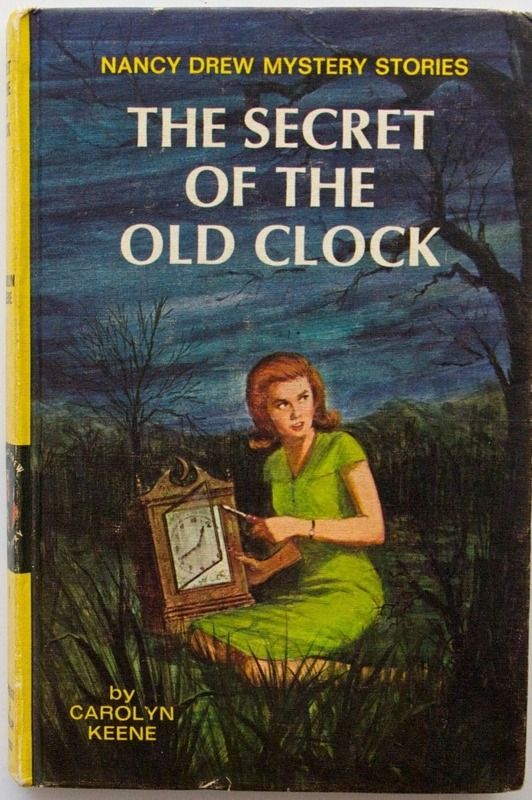 Imagine finding that book as an inquisitive seven year old whose imagination is already in overdrive. And then imagine there are fifty-six more of them (I couldn't even count that high!). Fifty-six books full of a supercool heroine who is smart, capable, independent, has her own car, and gets to regularly solve mysteries, discover hidden passages and compartments, and explore mysterious old buildings.
I found Girl Sleuth at the library on one of their suggestion tables. I don't really pick up random books any more because I have so many books on my TBR already and THERE IS NO TIME, but I just had to make an exception. Look how pretty! These books were my childhood. I have vivid memories of my mom reading them to me when I was sick. (And in one of the copies, in the endpapers, my teenage mother had essentially written fanfic Mary-Sueing herself into Nancy's world, calling herself "Barbara Drew, Nancy Drew's Cousin". Oh my God, I need to find that copy so I can read it again with new appreciation.) I would tell anyone I met who seemed even remotely interested in my life or activities that Nancy Drew books were my favorite, and which book I was currently on, fully expecting them to match my levels of enthusiasm (they never did).
So yeah, I was disappointed by this book.
Girl Sleuth is a competently written biography of the two women who most shaped Nancy: Mildred Wirt, her first ghostwriter, and Harriet Adams, nee Stratemeyer. I was interested in the book at first, because it details a period of history that I find intriguing, as well as the influence of Harriet's father, Edward Stratemeyer, who essentially invented book packaging companies, and whose books dominated the dime novel market for decades. But as the book went it on, it became apparent that the author just was not skilled enough to do more than reiterate the information exactly as it happened, and in chronological order. There isn't really a *style* to this book, and it quickly became a dull read for me, despite being entirely made up material I should have wanted to devour: women working in traditionally male jobs, the publishing industry, the creation of the books, the ways that Nancy Drew evolved over time (feminism, the fifties, etc), and the public battle between Margaret and Harriet over who took credit for Nancy's creation . . . but none of it was organized in a way that made the information interesting. It was SO DRY.
I don't recommend this book as anything more than a source of information if you're interested in any of the topics it covers. You will most likely be disappointed by it otherwise.
Reading it has reminded me, though, that I still haven't finished the original Nancy Drew books. I have two left, and I've been saving them for years, as some sort of sentimental OCD weirdness where my brain thinks, I don't know, that if I don't read them I won't die? But I really need to get on it. I'd also like to revisit some of my favorites from the series, but they are all currently boxed up in my mom's garage. She probably won't notice if the next time I'm there if those boxes somehow migrate to my car . . .
[2.5 stars]