Our Discussion Post is live – join us now to discuss Life Moves Pretty Fast. 
We're quickly approaching our second Book Club of the year: Non-fiction. Life Moves Pretty Fast by Hadley Freeman won the vote, and we are just over a week to go time. Our group chat about Eighties Movies and this book will get going around 2 p.m. Eastern on Wednesday June 14 both here and in our Facebook group, the Book Chat.
Book Club is open to anyone and everyone, and with this choice's theme I imagine we'll all have lots to say. If there's a pressing topic you'd like to see addressed, leave a comment down below and I'll see what I can do about getting it included in the main post here or other on Facebook.
As a reminder to get finished (for myself as much as anyone else) here is a preview of our Discussion Topics for next week:
How well do you feel the examination of how movies have evolved to what we have on offer today was handled by the book?
Freeman focuses her work on the big movies of the decade, not the critical darlings. It is inevitable that in a book coming in at a crisp 305 pages many of the largest; most loved films are left out (heck, Freedman puts 20 of them in her epilogue). Which of yours didn't make the book, and what lesson did it teach you?
Movies today say so much about society's changing expectations of women, young people, and art from their eighties counterparts. Why do you think some of these changing expectations have occurred?
What do you make of our shared nostalgia for the movies of the eighties, combined with the industry's bad reputation during the same decade of declining quality: the period in which franchises, sequels and lazy, easy money-grabbing took over from the auteur cinema and personal visions that are associated with American films in the '70s?
Which movie were you surprised to see included? Or, which movie's "lesson" felt off to you?
What do you make of Freeman's stance that eighties movies are a lot more "politically engaged and female-friendly and even moral" than similar fare from the past fifteen years?
Freeman's tone and authorial voice: does it work for you? Does it match her subject?
Plus some additional movie specific ones here and over on Facebook.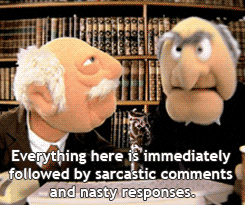 Okay everyone, I'll see you next Wednesday to chat the 1980s, movies, and culture.