"Eddie sat us all down as the cast and went, 'The show's going to go for five years. Five years. Every episode is going to be like a movie. Keep your powder dry. We're in here for the long haul. Nobody's to make fun of this. There'll be enough people anyway who want to cut a swath in us some way or rubbish the idea, or they're not going to be fully on board, because we've got this title.'Battlestar Galactica—that's a blessing as well as perhaps a bit of a poisoned chalice. Nobody needs to take this as seriously as we do.'" — James Callis
 "For some of the younger kids, it was heartbreaking to tell them, 'I'm in my fifties, guys. Michael Hogan, Mary McDonnell, myself—we've had a lot of experience. We've been very fortunate and we're proud to be part of this with you guys, but I've got to tell you, this has never happened to us, and we never felt this way about anything we've done in television like that. And I've got to tell you, it's once in a lifetime. I've never had it before, and I don't think I'm going to have it again." — Edward James Olmos
– – –
Well, first of all, don't pick this up if you don't have time in your life for a Battlestar Galactica rewatch, because it's going to make you want to do one. (And if you haven't watched Battlestar Galactica yet, may I ask you, what are you doing with your life?)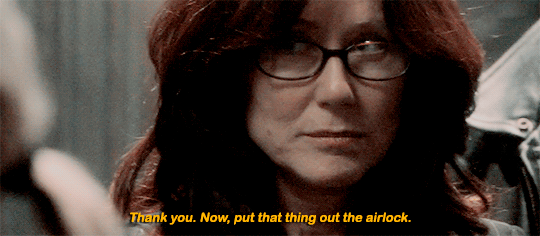 This is now the third oral history I've read from Altman and Gross, and I have basically the same feelings about it that I had for the twoStar Trek ones: the oral history format is fun (hearing it in their own words), and the dates of the interviews are still not documented, leaving you a bit unsure of timing. (Though it seems extensive current interviews were conducted in this case, because most of the interviewees referenced events that have happened in the last few years.) But at least for the last 2/3 of the book, I was a lot more emotionally invested in what I was reading, because BSG is one of my favorite TV shows of all time. Star Trek had lots of juicy behind the scenes drama, but this one mainly focused on a creative history of the series. Everyone on both versions of the show seems to take great pride in their work on the show, and developed lifelong bonds with fellow cast and crew members.
I have never actually seen the original Battlestar, though I own the pilot TV movie on iTunes. That section was less interesting to me because I didn't have a connection to it, and in most cases, no frame of reference, aside from what was relayed to me in the book. It's certainly readable and understandable, but I cared much less about it because of that. I was relieved that the original show only took up about a third of the book. I would imagine that fans of the original show will enjoy all of the interviews, but I'm not really the best judge on it.
I was almost universally pleased by the sections covering the reimagining, with one major exception. The focus is definitely on Ron Moore and David Eick, the co-creators. They must have given hours of interviews to Altman and Gross, and it's all great material. They talk about the process of originating the show, the creative process, battling the network about a surprising amount of things, casting, and fan reactions. They both come across as very thoughtful, which is not surprising given the show they created. As a pretty big fan back in the day, I did already know some of the behind the scenes stuff, but it was fun hearing it from different perspectives, and the book was still chock full of neat little stories I hadn't heard before (like Ron Moore talking about how when they were filming the reveal of the Blackbird to a critically ill Roslin in season two, he was so overcome with emotion that he had to wave off Mary McDonnell and Aaron Douglas, who were coming over to chat with him afterwards).
The one complaint I have is a major one. I do not understand how they could compile almost 500 pages of interviews, and Bear McCreary's name only appears once, in a brief mention. His score for that show is one of the best TV scores of all time. The motifs and themes he wrote for each character, each arc, were instrumental (heh, pun) in achieving maximum awesome in many a moment. I cannot picture the season one finale sequence in the opera house without "The Shape of Things to Come." What good is an Adama father/son moment without the "A Good Lighter" theme? That one year time jump without the clocklike, melancholy "One Year Later"? Roslin and Adama's love story without "Roslin and Adama?" Don't even get me started on how many times the music was literally a part of the plot, my favorite of course being Starbuck and her father in "Someone to Watch Over Me". There is absolutely no excuse for McCreary not to be discussed at length, even if they couldn't nail him down for an interview. I mean, his blog alone, where he gave fans in-depth posts about every episode, was sort of groundbreaking.
Anyway, if you are a fan of the show, this is well worth checking out.