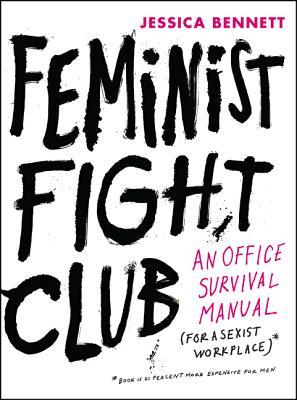 I hesitate to call a book about feminism "cute", but…this book was pretty cute. With chapters entitled "The Bropropriator" and "The Imposther", Feminist Fight Club is full of fun catch phrases and punny jokes. But it has a really serious mission, and Bennett backs up her writing with solid research.
While she calls Feminist Fight Club an office survival manual for a sexist workplace, it really can be applied to any area of life. I think any woman could easily find something applicable to her own life in this book. I work in an office that's almost evenly split between men and women employees, but my particular department is made up of a female director and three female managers (including me). I don't feel like a lot of sexism exists in my workplace, but I did notice things that she writes about that apply to us — like, all of our IT guys are male and the receptionists/admin assistants are all female. Or that when we have company-wide meetings, the men are much more likely to speak up.
There's some great advice in here about how to made yourself heard in an office, and more importantly (in my opinion), how to help other women be heard. It's very inclusive and even has advice for men wanting to know how they can help out. But even if you don't work in an office, you should check it out. I bet something in here will speak to you.