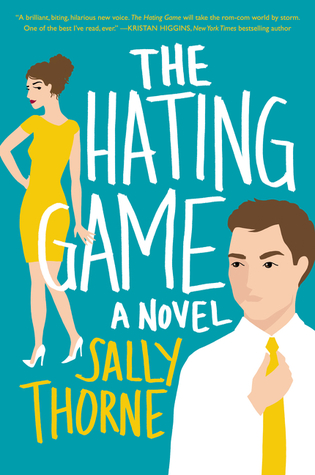 The Hating Game by Sally Thorne 3 stars
I don't normally read romances, with the exception of my beloved Outlanders, but y'all recommended Kulti and I really liked that, so I thought I'd give this other highly rated one a shot. I didn't love it, but it was cute. I listened to the audio version, and hearing the name "Joshua Templeton" repeated over and over varied from obnoxious to over the top hysterical, depending on my mood. I liked Lucy, but I have trouble getting behind the whole "I've loved you all along which is why I've treated you like shit" thing. I also wish the author had started a little further back in their history, to let us see why they hated each other all along. Really, Lucy's adorableness carried this one up to 3 stars for me.
The Upside of Unrequited by Becky Albertalli 3 stars
Albertalli wrote Simon vs. the Homo Sapiens Agenda, which was also pretty cute. The Upside of Unrequited stars Molly Peskin-Suso, the chubby, lonely twin to outgoing Cassie. At 17, Cassie's had a lot of girlfriends, and Molly's had a lot of unrequited crushes on boys she's only known from afar. Until a cute boy starts to pay attention to her — and she starts to notice her not-quite-so-cute co-worker. Molly's sweet, and watching her come out of her shell was fun. There's also a whole subplot about her moms getting married, which I liked. Watching the girls run wild around NYC rang a little untrue to me, but I bet a younger audience would have a lot of fun with that.
Openly Straight (Openly Straight #1) by Bill Konigsberg 4 stars
Konigsberg wrote The Porcupine of Truth, which I enjoyed quite a bit, so I was happy to discover he had a couple more YA novels out there, too. Openly Straight stars Rafe, whose entire identity at his school revolves him being "the gay kid". Not that he's bullied for it — he's loved and embraced and idolized…and really tired of it. He decides to transfer to an all-boys school across the country and just be "Rafe". Rafe, at this new school, turns out to be good at sports, and pretty popular, and…totally in love with his best friend. I enjoyed the plot line of this — sort of a reversal of what you'd expect of a story about a gay teenager, but I LOVED the characters. Rafe was cool and all, but his room-mate Albie and Albie's BFF Toby were fantastic. Very funny, very quirky. And for a refreshing change of pace, the guy Rafe falls for seems absolutely worthy of it.
Honestly Ben (Openly Straight #2) by Bill Konigsberg 4 stars
Honestly Ben immediately follows Openly Straight,  and I really want you to read Openly Straight and anything I say about Honestly Ben will spoil the first one for you. So I'll just say, it's a great follow up, I freaking love Ben, and it tackles a wider range of issues than the first book but does so in a really good way. Also, more Albie & Toby for the win!
Heft by Liz Moore 3 stars
I really, really liked part of this book, and felt pretty neutral about the rest. The part I loved was Arthur's story. Arthur, a former professor, basically went into hiding 20 years or so ago, after a scandal at his school. Now he's a shut-in who weighs about 550 pounds and hasn't left his house in a decade. The other half of the story stars Kel, the teenage son of Arthur's former student. We watch each of their stories separately, kicked off by Kel's mom calling Arthur for the first time in years. Kel's story sucks — his relationship with his mom is a mess, he's hiding his true self at school, plus he's a typical bratty teen (although he has good reason to be). But I loved Arthur. First of all, I listened to the audio version and the guy doing Arthur's voice was excellent — a very rich, plummy accent. And Arthur, though he has his setbacks, tries so hard to improve his life. I loved watching his story. The ending, in my opinion, didn't live up to the rest of the story. But the book is worth a read (or listen).