"If you want the motivation back, you must feed it. Feed it everything. Books, television, movies, paintings, stage plays, real-life experience. Sometimes feeding simply means working, working through nonmotivation, working even when you hate it.
We create art for many reasons—wealth, fame, love, admiration—but I find the one thing that produces the best results is desire. When you want the thing you're creating, the beauty of it will shine through, even if the details aren't all in order. Desire is the fuel of creators, and when we have that, motivation will come in its wake."
Fitting that I am posting this review on November 1st, the first day of NaNoWriMo. I have attempted NaNoWriMo for the last four years, and failed spectacularly every time. I have absolutely no follow through. The whole thing makes me feel like pond scum. Nope, lower.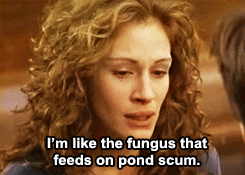 Oh, dang. I really want to watch My Best Friend's Wedding now.
This tangent had a point.
Eliza and Her Monsters is about a lot of things (love, family, anxiety, the deeps that exist under a person's surface, friendship, overcoming trauma, fandom), but my favorite thing that it's about is the process of creating art. Eliza is still in high school, but she is also secretly the creator of an uber-popular webcomic called Monstrous Sea that has millions of followers. She has managed to keep her anonymity intact. Only her family and two online friends know who she really is. The comic has been ongoing for years, but now not only is she approaching graduation, she's also nearing the finish line for the story she's been telling for years, so she has a lot of anxiety about both of those big changes, and she's arguing with her parents about college. She doesn't think she needs to go, and they have no idea that she has enough money to do basically whatever she wants, because they have no idea how popular her comic is. Eliza holds herself aloof from her family, who she believes (for the most part) don't really understand her or what she does.
There's this great disconnect in Eliza's life between how popular and beloved she and her comic are online, and how isolated she is in real life, even from her family members. She doesn't really have friends at school, and kids she used to be friends with no longer speak to her. She believes this is because she's so weird, people just don't like her very much, but it's mostly because she's retreated inside her head and has given up reaching out to people in real life. Her life is Monstrous Sea, and she pours herself into it.
Until this strange, large boy comes to her school, and she realizes he's a fan of Monstrous Sea. And suddenly they are friends. Things go from there. I don't want to say more than that. (It's a little romantical, but even if you're not into that, I'd still recommend this because of all the other stuff it's got going on.)
I was utterly absorbed by this book. It's got a little bit of everything. But it was the meditations on art and fandom and how they cross over into Eliza's real life that fascinated me. Even the secondary characters by the end are kicking ass. (Of particular note are Eliza's twin brothers, who I absolutely fell in love with by the end.) I liked that it dug into what happens when the art stops, when the urge to create leaves you completely, how empty and frustrating it can be.
Seriously, guys, I can't recommend this book enough. As people who love stories and art and the internet and human relationships, I feel like it is probably of interest to most of you. I really need to buy a copy so I can re-read. (Also, almost forgot to mention, Zappia illustrates it herself with panels from Eliza's comic! And it's so pretty!)